Welcome to Our Website!
---
Contact Wetter for high grade stainless steel wire and stainless steel wire mesh with micron or space openings. Wetter produces AISI 304, 304L, 306 and 306L stainless steel wire with wire drawing machines, at the same time, we weave better quality stainless steel wire mesh out of stainless 304, 316 and other metal alloy materials. We also have a dedicated team for all your business requirements.

From our website you can view our current wire mesh products and find out about the detail technical information available. Click on Contact Us for an inquiry or visit us in China to see the factory and how we control the quality.
Our mission is to...
Provide choice stainless steel wire and innovative and technologically advanced stainless steel wire mesh (wire cloth / screen) products in response to customer needs.
New Products!
Stainless Steel Chicken Wire, woven in hexagonal openings with selvage and lacking wire to form a finished metal fabric for fencing of poultry or river bank protection. Also named Poultry Wire Fencing. Anti-rusting ss wire material can serve a long time. Supplied in the form of mesh containers or lines of fencing mesh.
Choose the Right Material for Stainless Steel Wire Mesh: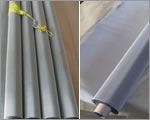 Are you looking for economic stainless steel mesh and does not require high property of corrosion resistance or strength? Or you are considering buying stainless steel wire mesh with less content of carbon and excellent property of corrosion resistance? Or you need stainless steel netting with good welding property? Click to see details of the chemical composition of stainless steel material and different properties they present.